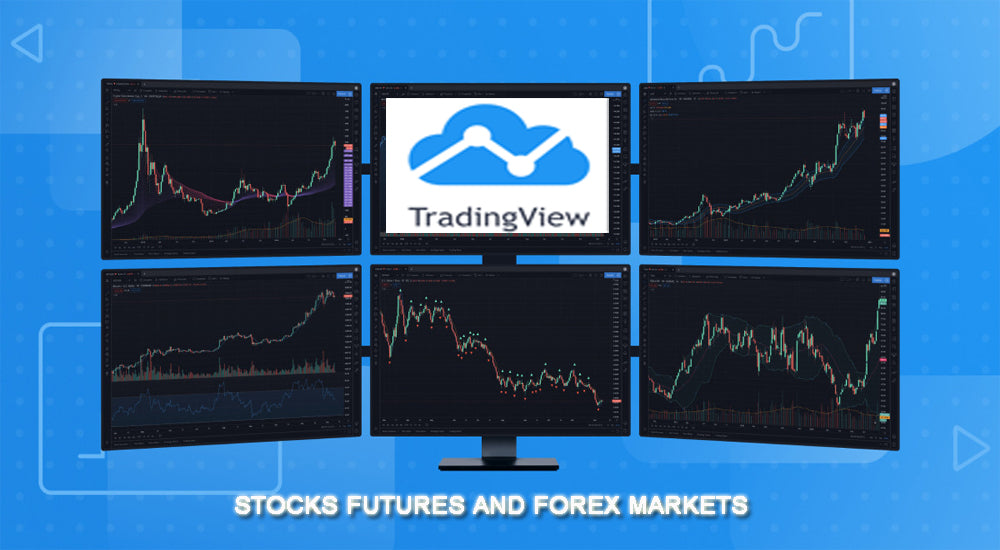 Trading view
Tradingview is one of the most popular market monitoring sites on the internet. In finance and investment markets, many investors interested in cryptocurrencies use various platforms for their transactions. Tradingview is the most actively used platform around the world. As well as being an unlimited source of information and social community for investors, Tradingview is free.
What is Tradingview?
Tradingview is one of the most popular market monitoring sites. The site is free but also has a paid mode that offers premium features. Tradingview also acts as a social media with its user community. TradingView is a social community that brings together investors who share their ideas to develop their talents.
Community members share their investment decisions, trading histories, charts, picks analysis, and much about the Forex or other market instruments they invest in. Thus, users can follow their favorite analysis accounts. In addition to these, you can follow the markets in real-time. Direct access to stocks, futures, indices, Forex, cryptocurrencies, and CFDs is available through Tradingview. tradingview is directly linked to hundreds of data streams.
Tradingview is an online trading community platform for traders to analyze stock charts or financial research markets. There are more than 18 million registered users worldwide, nearly 7 million published ideas and suggestions, as well as almost 38 million graphics on the platform.
How to Use Tradingview?
Tradingview is a free but quite complicated app. Lots of users post content explaining the site's functions and how to use it. In this article, we will describe the different usage methods in an item by item tradingview.
When you first open Tradingview, we see the opening screen. Generally, market summaries are published on the opening screen. On the left side you can find "editor's picks" section. On the right, market summaries are constantly updated and published. As the name suggests, current, trending, and most popular analyzes are shown in the editor's selected section. This way, you can discover new accounts. You can also search for the investment instruments you want with the "search" tab at the top. Thanks to the search module, you can also access different types of indicators and oscillators.
The second part is watch lists. Here, you can group and categorize the markets you are following separately. This feature allows users to create separate focal points and lists. At this point, the difference between free accounts and Premium accounts emerges.
Free accounts can only create two separate watch groups. Premium members can create an unlimited number of lists. You can add new lists by clicking the plus sign at the top right of the watch list. Another advantage of premium accounts is that they can export watch lists. Free accounts do not have this privilege. On the far right of the screen, you can access other parts of the site, such as public chat rooms, alarms, notifications, and broadcasts.
In the third part, there are detailed charts of investment instruments. Users can access detailed information about any investment instrument by clicking on it. Only a simple graphic will appear on the first screen. If you want to reach even more detailed chart styles, such as line chart, bar chart, candlestick chart, you need to click on the "full-featured chart" button. You can also find technical analysis and financial details about that stock further below. Below, you can also see the most popular authors analyzing that stock.
The last section has detailed graphics. In this section, users can operate on graphics. You can draw lines, put indicators, and many other things. Users can also change the appearance of the graphics by clicking the signs on the upper part.
By clicking the plus sign above the graphs, you can add indicators, averages, and other additions. Free members can add up to 3 indicators, while premium members are exempt from restrictions. After making the technical analysis they want, Tradeview members can record their transactions from the page opened by clicking the three lines button on the top left. Volume information can be accessed from the graphic bars at the bottom. A screenshot can be taken with the camera icon on the upper right. Finally, you can choose different investment instruments from your watch list on the far right.
TradingView Features
Tradingview charts are intuitive for beginners. Experienced traders can benefit from all the other advanced tools. They are checking the current values ​​of Forex, CFDs, or cryptocurrencies, analyzing price patterns with long scenarios, advanced charting options, and much more.
Technical analysis: Tradingview platform has hundreds of content covering the most popular trading concepts. The site contains more than 50 smart drawing tools. Hundreds of popular indicators, personalized indicator templates, volume profile indicators, and many more technical analyses can be accessed with a few clicks.
Pine Script: Pine Script is a programming language developed by Tradingview that allows users to write and share technical analysis indicators and strategies. The Tradingview library, which consists of more than 100,000 indicators, is constantly enriched with contributions from the community.
Alarms: Tradingview offers its users the opportunity to create flexible and easy-to-use trading alerts. Tradingview alarms allow you to receive signals from all the devices you log in with.
It is possible to create 12 different alarms for different markets. Options about price, indicators, strategies, or drawings are available, including PUSH and webhooks.
Social network: The main strength of Tradingview is that it is a global social network consisting of hundreds of thousands of users who invest, analyze, comment, share their opinions on Forex, CFD, cryptocurrency, and many other financial assets. Thousands of streams and analyses posted by users every day lead to users building followers and growing interaction between them. Tradingview also offers its members the opportunity to share videos containing their analysis and to broadcast live.
Direct Connection to Brokerage: Tradingview hosts users in different segments, from new investors interested in financial markets to experienced traders. Users can make trials within tradingview. It can connect to brokerage houses via the tradingview platform.
Global Markets: The Tradingview platform provides direct access to stocks, futures, indices, Forex, Bitcoin, and CFDs. Users can connect to thousands of data streams quickly and reliably. Tradingview has a depth of content that other platforms do not have, thanks to financial data, analysis, and user comments, as well as financial news and economic calendars.
More than 50 Stock Markets, all with real-time data, 20,000+ charts, 30+ most popular crypto exchanges around the World. The tradingview databank, fed by hundreds of thousands of users, hosts comments and chat rooms. Tradingview is the world's most popular trading and investor network, powered by market-leading charts and real-time data.
---